Avond van de Filmmuziek
Avond van de Filmmuziek
16 November 2024 @ 20:00

-

23:00
On Friday 15, Saturday 16 and Sunday 17 November 2024 we will celebrate this with festive anniversary concerts with, of course, only the most beautiful film music.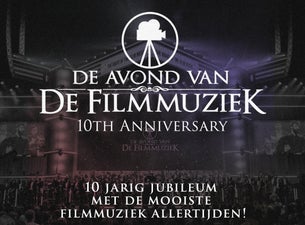 Under the direction of conductor Jules Buckley, the Metropole Orchestra will again next year perform famous film classics by the greatest film composers of all time, such as John Williams, Hans Zimmer, Ennio Morricone, Alan Silvestri, Nino Rota, Howard Shore, Thomas Newman and Rogier van Otterloo. James Bond, Once Upon a Time in the West, Amélie, Lord of the Rings, Schindler's List, Gladiator, The Godfather, Star Wars; all the great film music classics are featured during the festive celebration of the 10th anniversary of the Evening of Film Music.
In 10 years, the Film Music Evening has become the most popular film music event of the year. During the evening the most famous film hits are played and the greatest composers are honored.